The Effect of Using Smart Boards in Mathematics Teaching on Students' Academic Achievement
Keywords:
Interactive whiteboard, mathematics teaching, usage of interactive whiteboard, academic success
Abstract
The aim of this research is to use smart board in mathematics teaching; to determine how it affects the academic achievement of middle school students. 40 students attending 5th grade in a public school selected in Kastamonu Central district constituted the application group. In this study, a quasi-experimental study with pretest-posttest control group was used as a research method. Lessons were taught with 19 students in the experimental group using a smart board (computer-projection-board connection), and 21 students in the control group using only a computer-projection-classic board. A pre-test application was made with the success test, whose validity and reliability were determined, and a post-test application was made after the 2-week application. Geometric objects have been chosen as an example in the sub-learning area application. The data in the research were evaluated using the SPSS 17.0 statistical package program.
References
Büyüköztürk, Ş. (2007). Deneysel Desenler Öntest-Sontest Kontrol Grubu Desen ve Veri Analizi (2.Baskı). Ankara: Pegem AYayıncılık.
Çepni, S. (2007). Araştırma ve Proje Çalışmalarına Giriş (Genişletilmiş 3.Baskı). Trabzon: Celepler Matbaacılık.
Lewin, C., Somekh, B. & Steadman, S. (2008). Embedding interactive whiteboards in teaching and learning: The process of change in pedagogic practice. Education and Information Technologies. 13: 291-303.
Milli Eğitim Bakanlığı (2011). F@tih Projesi için imzalar atıldı, Web: http://www.meb.gov.tr/haberler/haberayrinti.asp?ID=828# 2 Ocak 2011 de alınmıştır.
Smith, H.J., Higgins, S., Wall, K., and Miller, J., (2005). Interactive Whiteboards: Boonorbandwagon? A Critical Review Of The Literature. Journal of Computer Assisted Learning. Volume:21,pp:91-101.
Somyürek, S., Atasoy, B. Ve Özdemir, S. (2009). Examining students' attitude sandview stoward susage an interactive whiteboard in mathematics Lessons. Procedia Social and Behavioral Sciences, 2, 2533-2538.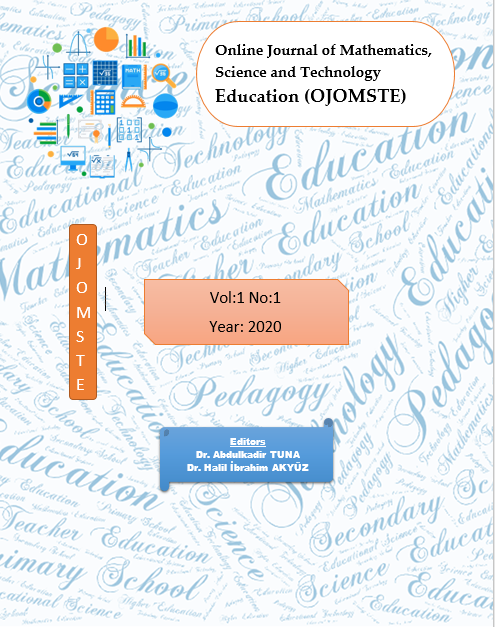 License
Copyright (c) 2020 Online Journal of Mathematics, Science and Technology Education
This work is licensed under a Creative Commons Attribution-NonCommercial-NoDerivatives 4.0 International License.
The OJEMSTE on provides immediate open access to its content on the principle that making research freely available to the public supports a greater global exchange of knowledge.
Open Access Statement:
The OJOMSTE permits any users to read, download, copy, distribute, print, search, or link to the full texts of the publications, crawl them for indexing, pass them as data to software, or use them for any other lawful purpose, without financial, legal, or technical barriers other than those inseparable from gaining access to the internet itself. The only constraint on reproduction and distribution, and the only role for copyright in this domain should be to give authors control over the integrity of their work and the right to be properly acknowledged and cited.